Move In / Move Out Cleaning in Burlington, Massachusetts
Whether you are coming or going, if you need a reliable cleaning company for a Burlington move in cleaning or move out cleaning, you just found it! Val's Cleaning provides superior services to render homes in Burlington, Massachusetts "move in ready". For over 17 years, we've been cleaning area homes and offices to prepare them for their next residents. We take great pride in our ability to "WOW" homeowners and businesses alike with superior move in and move out cleaning services in Burlington.
---
Call for Free Quote
---
Welcome Home! Burlington Move In Cleaning Services by Val's Cleaning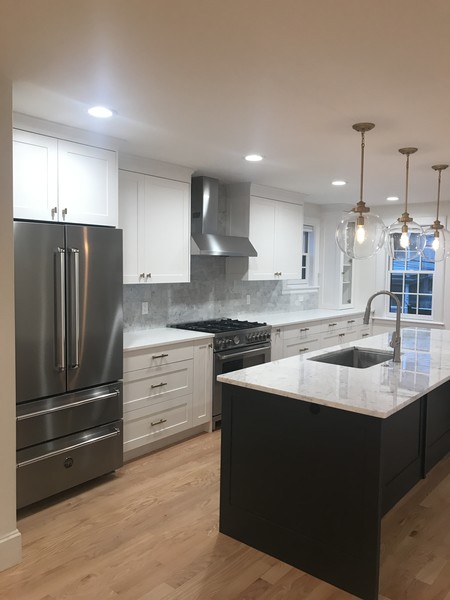 You are getting ready to move into your new home or condo. You've scheduled the moving van, made the signs for your yard sale, and sent an RSVP to the going away party. With so much on your plate, wouldn't you love to rely on someone else to take care of thoroughly deep cleaning your new place? When you call Val's Cleaning to provide move in cleaning services in Burlington, you'll receive the same level of clean that you'd do yourself. The bathrooms will be scrubbed clean and sanitized and the oven will be cleaned inside and out, and the kitchen cabinets will be wiped down. We'll even install the new contact paper if you wish! Call (781) 399-4009 to schedule your Burlington move in cleaning and rest assured that your new space will be sparkling clean and ready to welcome you home!
Burlington Move Out Cleaning by Val's Cleaning
Whether you are moving out of a house, apartment or office and are concerned about getting your full deposit back, or have just sold your starter home and want to give the new couple a fresh, clean, inviting start, Val's Cleaning would love to help. Since 2002, we have delivered detailed move out cleaning services to Burlington homeowners, renters and business owners alike. Tell us the level of cleaning you're after; whether simply "broom ready" will do or you want a deep down sparkling clean, and leave the rest to us. Call (781) 399-4009 today for a free quote of our move out cleaning service offerings.
Val's Cleaning's List of Available Move In / Move Out Services:
Deep vacuuming
Dusting, high dusting
Kitchen and bathroom sanitization
Window cleaning
Carpet cleaning
Appliance cleaning (inside and out)
Cabinet cleaning (inside and out)
Fixtures
Wall washing and baseboard cleaning
Front entrance sweeping
---
Call for a Free In-Home Estimate
---
WHAT CUSTOMERS ARE SAYING:
5★★★★★ - "Val has been cleaning my house for 14 years. Her cleaning crew is efficient and thorough. I have, and would recommend their services to anyone. They cleaned up after two renovations, the kitchen and the bathroom. Both clean ups were done swiftly and meticulously. Her crew helped clean the house, in preparation to selling it. And they continue to clean my new place."

Joanne in Burlington, MA

2018-04-18

5★★★★★ - "Val and her Team are terrific! I've owned several homes in several states over the last 25 years and I have to say that Val's Cleaning is hands-down the best. Timely service, fair pricing and top notch cleanliness, which for a house with children can be a challenge. Call Val to have her take care of your home. It's a no-brainer!
Darius - Winchester, MA"

Darius in Winchester, MA

2019-06-12

"Val is wonderful! She responded right away when I reached out, gave me a fair quote and was able to set up our schedule immediately. Val is very easy to work with and always reminds us when she is coming by. She is extremely thorough and detailed - our house has never looked better!"

Carolyn Argetsinger, House Cleaning in Malden, MA

2019-06-11

5★★★★★ - "Val and her team are the best!!!"

Anonymous

2019-03-04

5★★★★★ - "I heard of Val before we bought our house because every time we visited the house prior to our closing date, I couldn't believe how clean the house was. The prior owners had two dogs but you would never know it because of the impeccable job that Val does. Prior to our move-in, we had a lot of work done which produced an obscene amount of fine dust. It was everywhere. When we moved in, my husband and I couldn't believe how clean the house was. It was amazing. What I love about Val is her take charge attitude. She knows her stuff. She knows exactly what products are needed to do the job, but at the same time she is accommodating. Because I have two young kids, using natural products is important to me. She was very accommodating to use the natural products that I wanted. She is VERY thorough with her work. She is VERY reliable. She is also extremely efficient. She's the best!"

Tina C. in Winchester, MA

2019-01-14

5★★★★★ - "Val and her crew have been cleaning our house in Cambridge for 3+ years and have always done an outstanding job. She has been very dependable and attentive to any special concerns we have had. I would highly recommend her service."

Peter in Cambridge, MA

2018-12-04

5★★★★★ - "I have been using Val's services for years. She is thorough and the house has never been cleaner. She is dependable and trustworthy and treats her house as if it was her own. Second to none, I highly recommend her."

Lia in Winchester, MA

2018-12-04

5★★★★★ - "A friend referred me to Val 6-7 years ago, and I have used her without interruption since then. She and her team come when they say they will, they work hard and leave my home clean, well arranged, and smelling fresh. She is efficient to schedule and makes it easy to plan any special cleaning tasks I ask. Someone this good is hard to find – I have referred her to a number of friends who are as happy with her work as I am."

Bob C. in Salem, MA

2018-11-05

5★★★★★ - "Loved Val's service. I requested service for the following day for my rental apt and she obliged. She and her girls arrived earlier than expected and they went through the apt like stormtroopers. The cleaned the windows, the wood, and tile floors. The entire bathroom, everything in the kitchen including cabinets, the stove and the refrig. They cleaned the closets and the stairs going down from the apt. They left my second-floor unit immaculate. I highly recommend Val and her services. I've saved her info for the next time I need cleaning."

Evelyn in Revere, MA

2018-11-01

5★★★★★ - "Hired Val to clean a vacant apartment that needed heavy cleaning. She was professional from the first phone call and competitive in her pricing. With her crew, they made the apartment sparkle again! Every inch was cleaned thoroughly. Great job and I will be sure to use her services again."

Nancy in Malden, MA

2018-10-29

5★★★★★ - "Val and her team helped us clean our house before we put it on the market. Val was professional, polite and reasonably priced. She and her team did a PHENOMENAL job cleaning our home. They cleaned every inch of our house and put everything neatly back into place - the house was absolutely spotless. Highly recommend."

Nicole

2018-10-12

5★★★★★ - "Val was referred to me from a friend years ago and I have been using her service ever since. I have tried several other cleaning companies in the past but just wasn't satisfied with the way my home looked when they were done. Val and her girls do an amazing job and I love the way my home looks and smells when they are finished. I have referred Val to several friends and neighbors and as a realtor have even referred her to my buyer and seller clients."

Jill in Medford, MA

2018-06-25

5★★★★★ - "Val was recommended by the Realtor I used when I purchased my Condo in Wakefield 2 years ago. I am so appreciative of that recommendation. Val and her Team are A+ in my eyes and I don't know what I would do without them, the best feeling is to walk through my door on a day they have been there !"

Julie Ahern in Wakefield, MA

2018-06-25

5★★★★★ - "Val has been working in my home for 14 years. Frankly, I don't know what I would do without her! Val is highly professional, exceptionally thorough, clean, meticulous, careful, knowledgeable and timely. Her service is unmatched. Additionally, she is a lovely person – always polite, pleasant and considerate. And, she expects the same from her team. Six stars!"

Kate in Brookline, MA

2018-05-21

5★★★★★ - "Val has been cleaning my house for years. She has also cleaned some of my apartments for rent. She does a superb job. I am a very neat person and she is the only one I would trust to do meet my expectations. She is extremely meticulous and thorough job."

Silvana Toneatti in Winchester, MA

2018-05-08

5★★★★★ - "Val has been cleaning my house over 10 years, also my summer house. I had hired 3 cleaning teams before Val, and she is the best hands down. I highly recommend her."

KL in Winchester, MA

2018-05-07

5★★★★★ - "As the owner of a real estate company, it's very important that I have the best people on my team. When it comes the house cleaning there is none better than Val. She is thorough, knowledgeable, and flexible. She and her team know just the right products to clean a protect every household surface. I've seen Val perform amazing results leaving the least kept homes spotless! If you live a busy lifestyle and want to check house cleaning off your worry list, call Val. You'll be thrilled with her service!"

Laura, in Winchester, MA

2018-05-07

5★★★★★ - "A friend recommended Val and her crew, his family has used her for about 20 years. I only wish I had known about her 20 years ago. They are FANTASTIC!!! I absolutely love coming home after she's been here. The smell when I walk in. Everything is in tip-top shape and sparkling clean. There isn't a spot that they miss. They go out of the way to make me happy. And I completely trust them. I would highly recommend them and guarantee you'll be happy!!!"

Cynthia Hughes in Stoneham, MA

2018-04-24

5★★★★★ - "Utmost professional, very responsive, house feels so fresh after Val & the girls have been here!"

Anonymous in Winchester, MA

2018-04-23

5★★★★★ - "We have been happily using Val and her crew for the past six months. Every visit they are extremely professional and leave our office fresh and clean."

Stefanie in Somerville, MA

2018-04-23

5★★★★★ - "Val and her crew have been cleaning my condo in Winchester for the past 3 years. She is dependable, timely and thorough. If there are any areas for improvement, she takes directions well and addresses them in a timely and professional manner. I have recommended her to friends and will continue to do so!"

Paul

2018-04-23

5★★★★★ - "Val has provided outstanding cleaning services to us for over 10 years. She is remarkably reliable and brings years of experience to her work. We recommend her highly!"

Anonymous

2018-04-23

5★★★★★ - "5★★★★★ - "I've been using Val's for both our personal and business needs for over 5 years. The girls do a great job, but an even better job when Val is on site. They will basically do anything that is asked of them. They are trustworthy and reliable too." 2018-04-23"

Anonymous, House Cleaning

2018-04-23

5★★★★★ - "The best! Val and her team have been cleaning our house for about five years now, and we couldn't be happier. Val has helped us prepare our old condo for sale, and scrub down our new home before we moved in. She cleans as if she owned the place - with meticulous attention to detail. Everything looks spotless and brand new after Val has visited - it's a great feeling to return to our home after she and her crew hand cleaned. Not quite sure how she managed to get rid of some of the kitchen and bathroom residue.
What's more, is that we trust Val without reserve. She has her own set of keys to our home and is a true professional.
We consider ourselves very fortunate to have developed a relationship with Val."

Jon in West Newton, MA

2018-04-18

5★★★★★ - "Val and her staff have been cleaning my house for about 1 year. They have great attention to detail in their cleaning and organizing. I have been very happy with them and recommend them. Val is very pleasant to work with and amendable to changes in schedules."

Marie in Arlington, MA

2018-04-17

5★★★★★ - "Val and her staff always do a tremendous job. They are professional, detailed, and flexible. We most recently worked with her during the sale of our home. She helped make sure our house was looking it's best for our open houses. Highly recommend."

Brian Giordano in Beverly, MA

2018-04-17

4★★★★☆ - "I always know that when I get home from work and Val's crew has been there. I had shoulder surgery and couldn't do the heavy cleaning. I greatly appreciate the time and care they take to clean my home."

Mary in Woburn, MA

2018-04-17

5★★★★★ - "I might be one of Val's oldest customers, she has been cleaning my house and office for 15 + years., Her employees are professional and courteous and no matter what the task, Val and her crew are there to tackle the chore. The smartest and easiest decision I made was to hire her.
You should do the same"

Don in Woburn, MA

2018-04-17

5★★★★★ - "I've had Val as a cleaner for the past 16 years with no complaints. Val and her team are thorough and do a great job. She's flexible with timing and days of the week and always lets me know if schedules change. I'd highly recommend Val and her team."

Dan in Somerville, MA

2018-04-16

5★★★★★ - "The ladies are very professional and efficient. They arrive on time and they did a terrific job. We are very pleased with the people who continue to come to our home. I do recommend Val's Cleaning to all my friends!"

Jackie in Malden, MA

2018-04-13

5★★★★★ - "Best service ever received!! I don't know what they do, it it might be magic or something like that but I don't even sneeze from my dust allergy anymore!! Even though my dog doesn't shed much, I can't even find a single strand of dog hair. And the stove, spotless!! They can turn a old black stove white again(and not with paint). All of the experience makes it so they know all of the products that work on certain materials and which don't. It is amazing what they can do. You must give them a call!!"

Julia Rodrigues in Malden, MA

2018-04-10

5★★★★★ - "She is the best in business"

Mirel in Watertown, MA

2018-04-04
---
Call for a Free In-Home Estimate
---